Today is our anniversary.
I had every intention of writing this beautiful, poetic, and sentimental tribute to the man with whom I have shared the past 15 years.  I had snippets of the post already formed in my head and was just waiting for the day to come when I could put pen to paper – in a manner of speaking – and share with the world the beautiful journey these years have been.  It would be unforgettable.  Sweet, yet not sappy.  Tender, yet not too intimate.  Sorrow and joy, yin and yang interwoven throughout the majestic tapestry of our life together.
And then, our a/c broke.
It's 94 degrees upstairs and getting hotter by the minute.  Going to the kids' rooms is like walking into wall of hot air.  Fans only serve to circulate the hot air, much like a convection oven.  And since we don't particularly like our children extra-crispy or well-done, the family is moving downstairs until tomorrow.
So much for a private, intimate, romantic evening.
And anyways, the heat makes me grouchy.  So happy anniversary, or whatever.
Okay, so I took the kids (and a friend each) to go see "Space Chimps".
There's 90 minutes of my life (and $16.25 of my husband's hard-earned money) that I will never get back.
Oh, my kids loved it. It had lots of color, lots of physical comedy, lots of unique characters. But the humor definitely had some not-so-G-rated moments and the storyline, character development, and overall "teachable value" was definitely lacking. There were a few moments that made me laugh, but those moments were few and far between…and way over my kids' heads.
I'm sure we'll find this DVD wrapped beautifully under our Christmas tree this year…just don't expect us to make this one a "family movie night" favorite.
Forget what you've been told.
History does repeat itself.
Lightning can strike twice.
And Taco Bueno can massively screw up an order twice in different locations.
You may have read the post on Blogospeer about our last experience at Taco Bueno (yes, he called it Taco Bell, but it was Bueno) where we discovered the miracle of multiplying tacos and chips.  Well, tonight, it happened again.
I had dropped the kids off at VBS and decided to stop by Bueno on my way home to pick up a quick meal.  I saw the line at the drive-thru and decided to go in and order.  I stepped up to the counter, ordered my grande taco platter and cheesecake chimis, and paid.  After waiting for over 5 minutes, I stepped up to the counter to find out what was taking so long.  By this time, the drive-thru had cleared and a new line had formed at the counter.  I happened to notice a worker stuffing platter-looking items into a plastic bag and thought it might be mine.  As he kept putting more and more food into the bag, I dearly hoped it wasn't mine.  He came forward to the counter, slid the bag toward me, politely asked if I needed salsa, and wished me a good evening.  Noticing the bulging bag of food, I sheepishly took my bag and headed to my car, wondering how in the world I had managed to order so much food.
When I got home, hungry and ready to eat, I started pulling food out of my bag.  The first item I pulled out was a tostada.  Funny, I didn't think a tostada came with the grande TACO platter.  Then I pulled out not one but TWO bags of chips.  Hmm…I didn't notice that chips were included on the menu.  Then there was a bowl of beans.  And a soft beef taco.  And a chilada platter with two cheese enchiladas, rice, beans, and guacamole.  And an extra cup of queso.  And some sort of taco platter with a taco, muchaco, and enchilada.  Alas, there were no cheesecake chimis inside that bag.
I ate a bite of everything and a few of the chips and called it a meal.  I half expected to see one of the disciples heading my way with a basket to collect my leftovers.
So it's confirmed.  That whole story about the loaves and fishes?  Really it was tacos and chips from Taco Bueno.  Trust me on this.
I realized today that Debily is now in its 12th month of existence. And though it's not the official one year anniversary, I can say the past 12 months have been a wild ride. I am definitely a different person, living a different life, with a different focus and a different passion for ministry than this time last year. I also realized today just how grateful I am.
You see, one of the women in my Wednesday night Bible study – a woman who I have come to admire and respect, a woman whose testimony continually challenges me to live a life of full devotion to God – has started a tradition among our small group. Every Monday morning, she greets us with an email entitled "Threads of Gratitude." And she proceeds to share with us what she has to be grateful for at the beginning of a new week. It's not long until others start chiming in, sharing their testimonies of what God is doing in their lives. We rejoice over answered prayer, share the small victories that God has given us, and find our perspectives regarding our own situations changed when we are reminded of God's goodness.
As I prepared to share my threads of gratitude today, it struck me that it was just about one year ago that God called me to "Follow". And as I reflected on that fact, this is the thread of gratitude I shared:
As I approach the 1-year anniversary of a spiritual milestone in my life, I am grateful for the journey God has led me through over the past 12 months.
I am grateful that in the midst of wrestling with Him over the decisions He was asking me to make, He showed me His strength.
I am grateful that when I cried tears of hurt, disappointment, and frustration, He showed me His tenderness.
I am grateful that during times of questioning His leading, He showed me His sovereignty.
I am grateful that when I doubted our resources, He showed me His provision.
I am grateful that even though the road was at times hard and sad and painful, He showed me His joy.
I am grateful that when circumstances around me were changing, He showed me His faithfulness.
I am grateful that because I obeyed, He showed me His blessing.

And you, dear friends, are part of that blessing.

The journey ain't over yet!
Since we didn't purchase a pool membership this year (see previous post), we decided instead to go for season passes to Six Flags.  We have finally reached the point where our passes have paid for themselves and we now start saving money.  Despite the fact that we have closed the park every time we've gone this summer, we had never made it to the Cirque de Soleil Cirque Dreams Coobrila show.  So when we went on Friday, we made it a point to go see this amazing performance.
We knew it would be good.  We'd heard plenty about Cirque de Soleil, and Crisana's previous gymnastics teacher was once a performer with them.
We were completely unprepared for how good it would be.
Words cannot do this show justice.  There is so much going on simultaneously it would be impossible to describe it all.  The costuming, the acrobatics, the choreography all came together to create a stunning visual feast.  These videos aren't great quality either, but enjoy snippets of our favorite parts of the show.
He's spinning a metal box frame above his head.  Amazing.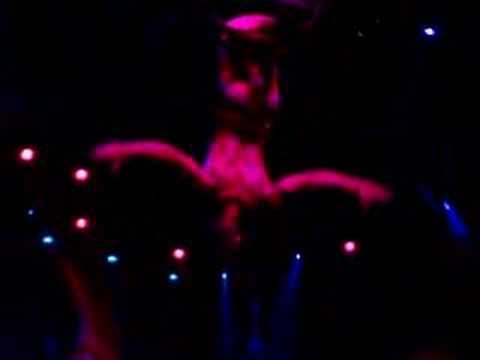 And the final one for the night…
For the first time in eight years, we do not have a pool membership at the Texas Pool for the summer.
And yet, here we are, in the throes of the hot Texas summer with no pool membership. Never fear, however, the Great Summertime Pool Adventure of 2008 is well underway.
Our first swim of the summer actually came before school was out. Trey had been invited for a birthday party/sleepover with his friend Dan, whose family does have a membership to the new Tom Muehlenbeck Center. The boys (and Matt) hung out and enjoyed lots of waterlogged fun in the indoor pool, complete with a slide and a lazy river.
Overall rating: 2 fins up (only because Crisana and I were at the theater that night)
Then came Memorial Day weekend and an invitation to join the Texas Pool for an "open house" of sorts. We couldn't pass that up! And even though the pool was crowded, we managed to find a table in the shade and have a splashing good time for a few hours. We visited and played with the Worleys and even saw a friend from our Marsh Lane days there…talk about a blast from the past!
Overall rating: 4 fins up. We love this place.
On Memorial Day itself we revisited an old "tradition" of ours. You see, we discovered several years ago that despite popular belief that water parks are jammed full on long summer holiday weekends, the opposite is really true. So we took our kids to Hawaiian Falls in The Colony on Memorial Day and spent the whole day laughing, splashing, riding rides, and floating the lazy river – with far less company than you'd expect. Though we can't afford to visit this pool very often, we always have a great time when we go.
Overall rating: 4 fins up – WAY up!
Crisana and I took advantage of an offer to join a friend at the pool at Lifetime Fitness in Allen while Trey was still in school. Though the pool wasn't very big, it had a lot to offer the pint-sized set and Rachel and Crisana had a great time swimming underwater, sliding down the slide, and getting splashed and sprayed. We credit Rachel with convincing Crisana that wearing her goggles is a good thing. Now we can't keep our little fish's face out of the water.
Overall rating: 2 fins up…for now. I intend to go back with Trey soon which I'm sure will bump the rating factor.
We spent the first two weeks in June at Juanita Maxfield Aquatic Center in McKinney for swim lessons. The kids loved the sea dragon and Trey eventually learned to master crossing the pool on the sea serpent. We enjoyed this pool a lot, but since it doesn't open until 1:00 and closes at 5:00, we haven't gone back often since swim lessons ended.
Overall rating: 3 fins up.
In mid-June, we arranged a play date with one of Crisana's preschool friends at Celebration Park in Allen. Though not a pool, it is a sprayground and does a fine job of keeping us all cool on a hot summer day. On this particular outing, the moms did not swim, but we brought blankets and lawn chairs and a picnic lunch and enjoyed a few hours of visiting while the kids had fun getting sprayed and playing on the playground.
Overall rating: 3 1/2 fins up.
During the week of BYBC, we decided to take an afternoon getaway to Ford Pool in Allen with one of the other adult helpers and her two boys. Though they live in our neighborhood, we haven't had much opportunity to get together with them despite the fact that we have a lot in common. So when she suggested Ford Pool we jumped at the chance to check out a new swimming hole with some new friends! This pool has a nice shallow end and a good shaded picnic area with lots of tables. The deck is also large which allows more room for all our stuff! But the pool itself has very little to offer compared to the others we've visited. It was also very crowded the day we came and that made it difficult for our kids to really enjoy swimming around.
Overall rating: 2 1/2 fins up.
Last week, we visited two different pools with two different friends. On Monday, we met up with a friend from Trey's school at the Don Rodenbaugh Natatorium in Allen. This indoor pool is much like the one in Plano, with a slide and lazy river. We brought a friend from the neighborhood for Crisana to play with and I got my exercise chasing them around the lazy river and through the whirlpool! The boys slid and swam to their hearts' content, even though Trey was considered by one lifeguard to be too tall for the spray structure. The overpowering smell of chlorine finally chased us out and we were glad to be back in the fresh air. But of course we didn't have to worry about sunscreen or bugs.
Overall rating: 3 fins up.
Then on Thursday we dipped our toes in the Old Settler's Aquatic Center in McKinney. The pool has a decent slide, a mushroom sprayer, two lemon drop sprayers, and bubblers. The deck is nicely shaded though a bit short on chairs and lounges. We brought picnic lunches and got there early, since the pool opens at 10:00. Even though there were quite a few people there, it never felt truly crowded and the kids had lots of room to swim around. We all participated in a game of group tag. Though it's tucked away into a lesser-traveled part of McKinney, the atmosphere was nice and the pool was clean and well-cared for. It's an easy drive from our house, so I think we'll be spending lots more time here this summer.
Overall rating: 4 fins up.
The Great Summertime Pool Adventure of 2008 has truly been an adventure thus far. But as my brown-skinned children can attest, it has also been great. We've found lots of places where we can keep cool this summer and enjoyed renewing old friendships and forging new ones along the way. We've still got a lot of summer left, but I have no doubt we'll continue to find new and different watering holes to help us beat the heat.
Splash on!
This post could be considered a public service announcement of sorts.
This probably comes as a shock to my two-handfuls of readers. If you've been with me for awhile, you know I don't generally use my blog for PSA's. I may be preachy, but this blog is generally not my preferred forum for stirring the social consciousness. The spiritual consciousness, perhaps, but not the social consciousness. That's just how I roll.
But today, for one post, you can bear with me. Especially since you've been stuck looking at that recipe for potato salad for so long. I mean honestly, no matter how good that recipe is, you can only read it so many times before you're already sick of it – and you haven't even eaten any. Trust me, I know. I read my blog, too.
Last night, I participated in a focus group with Dallas by Definition (formerly Dallas Focus). I have done many focus groups with them in a variety of settings and have enjoyed each experience. Group topics have ranged from radio stations to online banking to TV shows and programming to cheese to "Got Milk?" ads to bras. Yes, bras. They have been conducted in one-on-one interviews, product testing at home, videotaped shopping experiences, group interviews in a conference room and roundtable discussions in a hotel suite. Each of them introduced me to diverse groups of people with equally varied professions, cultures, and outlooks on life. In each group, there was only one common thread that joined us together: the topic of discussion. But our perspectives were as widely different as they come. And that always makes for an interesting time.
So what's the public-service in this announcement? Simply this: Do it. As a Christian, I believe it is important for us to be involved in influencing manufacturers, marketers, and suppliers with our perspective. Executives pay a lot of money for these focus groups and therefore have a vested interest in listening to consumers' concerns and meeting market demands. I take my obligation seriously and am involved with other forms of market research including the Home Testing Institute and Nielsen Homescan Consumer Panel.  While these forums don't provide me the freedom to explain my choices like a focus group does, I can demonstrate through my purchasing habits what does/does not appeal to my family and where my family chooses to spend our money.
So I encourage you to become involved. There are many other focus group opportunities besides the ones I've mentioned. There are focus groups at the mall – get paid to express your opinions and then go treat yourself to a new pair of shoes!  Find ones that you like. Get on their database call lists. Make your voice heard. Your opinions do count. And the few extra dollars or free product you'll pocket isn't a bad deal, either.
I confess, I'm not very good when it comes to making potato salad. I either overcook the potatoes, thereby creating a mashed potato gloopy mess, or I undercook them and end up with a potato salad where the potatoes are crunchier than the celery.
Neither option is particularly appetizing.
In the 18 years since I moved out of my parents' house, I've tried many potato salad recipes trying to find "the one". Most of the ones I've tried lead Matt to the reaction of, "You don't have to make this one again." Which in husband-speak is the equivalent of "Yuk. I sure hope I'm not stuck eating all the leftovers of THIS experiment."
But this one received rave reviews from my husband. And, amazingly enough, I have made it more than once, which if you know anything about my cooking habits means it's a favorite. What I love most about this recipe is it uses new potatoes, which I can manage to cook correctly – and thus keep the crunch in the celery and not in my potatoes.
New Potato Salad
Prep time: 30 minutes
Yields: 6-8 servings
6-8 new potatoes (enough to yield 6 C when cooked and cubed)
1 C celery slices
1/2 C chopped onion (white works best, but you can also use red)
1/3 C chopped sweet pickle
1 C mayonnaise
2 eggs
salt, pepper, and paprika
Cut potatoes into cubes and place in a large pot of boiling, salted water. Boil, covered, for 20-25 minutes, or until potatoes are soft enough to prick with a fork. Drain and rinse with cold water. Allow to cool slightly.
While potatoes are boiling, place eggs in a saucepan and cover with 1″ of water. Bring to a boil, then remove from heat and let stand 15 minutes. Immediately run under cold water. Remove shell and use egg slicer to chop into small pieces.  While the eggs and potatoes are cooking, prepare the celery, onion & pickle.
Combine vegetables, pickle, egg, and mayonnaise; mix lightly. Season to taste. Chill.
In 1974, a neighbor friend from our church in Miami held a "5-Day Bible Club" in her home.  At the time, I was 5 years old and looking forward to starting school.  My big brother Dan would walk with me as we crossed busy 82nd Avenue to get there and back home again.  I must confess not remembering much about the lessons she taught…but I do remember a special little book she used to tell us a wonderful story.  This book had no words, only colors, and as she flipped through the pages something resonated deep within me.  On the final day of the club, I met with one of the adult volunteers in her Florida room and prayed to accept God's gift of salvation.
Now, 34 years later, God gave me the opportunity to do the same for another child.
This week was the week for Back Yard Bible Clubs at McKinney Fellowship.  I knew from the moment we first heard about them that we would be hosting one at our home.  Sure enough, we did.  The church provided the curriculum, crafts materials, volunteers, and even a few children.  The rest was up to us.
What a week!  Each day, we had around 15 children show up at our front door.  I was blessed to have 3 wonderful adult volunteers plus a youth helper (all but one from our neighborhood) assisting me each day, and I truly couldn't have done it without them.  We learned about four parables of Jesus and had a wonderful time singing, dancing, doing crafts, playing games, and eating popsicles in our back yard.  Culvert loved the extra attention and spent quality time getting to know each of the children who came.
The most exciting part for me was seeing those children react to the Bible stories and hearing the way that God was moving and working in their hearts.  I may not have had the opportunity to lead a child to Christ this week, but I know that seeds have been planted.  Several of the children have already made professions of faith, so it was exciting to help equip them to now go out and be missionaries to their friends and others in our neighborhood.  Who knows what will happen over the next several weeks…months…years in our little community in Fairview?  All I know is I am grateful to God for putting us here and allowing me to have a small part in His great plan.
Last night's Home Run Derby is one that is sure to be talked about for years to come.  And the name I am sure will be mentioned most often in those discussions will be Josh Hamilton.
He's no stranger to the handful of us who faithfully follow the Rangers.  His on-field achievements in this first half have been nothing short of amazing, and his continuing humility and outspoken faith have made him one of the true "good guys" in sports.
Even though he eventually lost the home run derby to Justin Morneau – who, incidentally, is also having a standout year – the real hero of the night will always be Josh Hamilton.  For that matter, any Texas Ranger who can get the crowd at Yankee Stadium to cheer FOR him and go wild when he hits one over the wall deserves to be remembered.
Unfortunately, the clip doesn't show his first 24 home runs in the first round, but I believe these last 4 will be the ones most talked-about.